New Routes in Warren Begin December 6
Starting Monday, December 6, WRTA will be reinstating Fixed Route service in Warren with all new routes and schedules.
"We're fortunate that ODOT funded this service because it's needed" said WRTA Executive Director Dean Harris. "We do have limited routes at this point, but the routes we have put in place will help get residents to where they need to go."
There will be seven new routes in Warren —
70-Southeast
71-North
72-Southwest
73-East
74-Elm
75-Northwest
76-North Jackson Express
The 28-Warren Express will also continue to run its regular route.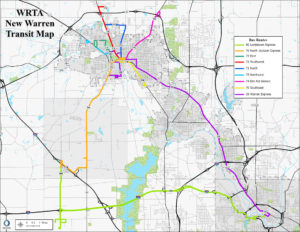 (To view a larger version of this map, visit the Warren Service page)
Riders will be able to get to shopping centers, hospitals and high employer areas including destinations such as Ultium Cells Battery plant and the TJX Distribution Center.
The schedule changes will be reflected in the myStop Mobile app for Apple and Android smartphones.