Warren Service
Fixed Route Bus Service — Now Operating in Warren
Thanks to funding from a State of Ohio grant, WRTA is now offering Monday through Friday fixed route bus service within the city of Warren.
Four routes are now running on major Warren thoroughfares, and reach most retail and medical centers within the city limits. All routes tie into the existing 28-Warren Express route, which runs between Federal Station in downtown Youngstown and Warren.
The 28-Warren Express route has also been expanded, and travels on Mahoning Avenue NW to and from the Kent State University Trumbull Campus north of Rte. 82 Monday through Friday. The Saturday 28-Warren Express route and schedule remains the same as it had previously been.
You can move from any Warren bus (including 28-Warren Express) to another one at the Junction Point at High St. NE and N Park Ave.
If you have questions about WRTA's Warren service, you can call (330) 744-8431, or use the Contact form on this website.
---
Warren Service Map
The map below shows the final new Warren routes, along with the expanded 28-Warren Express route.
Click here (or on the image) to view a larger and printable version of the map.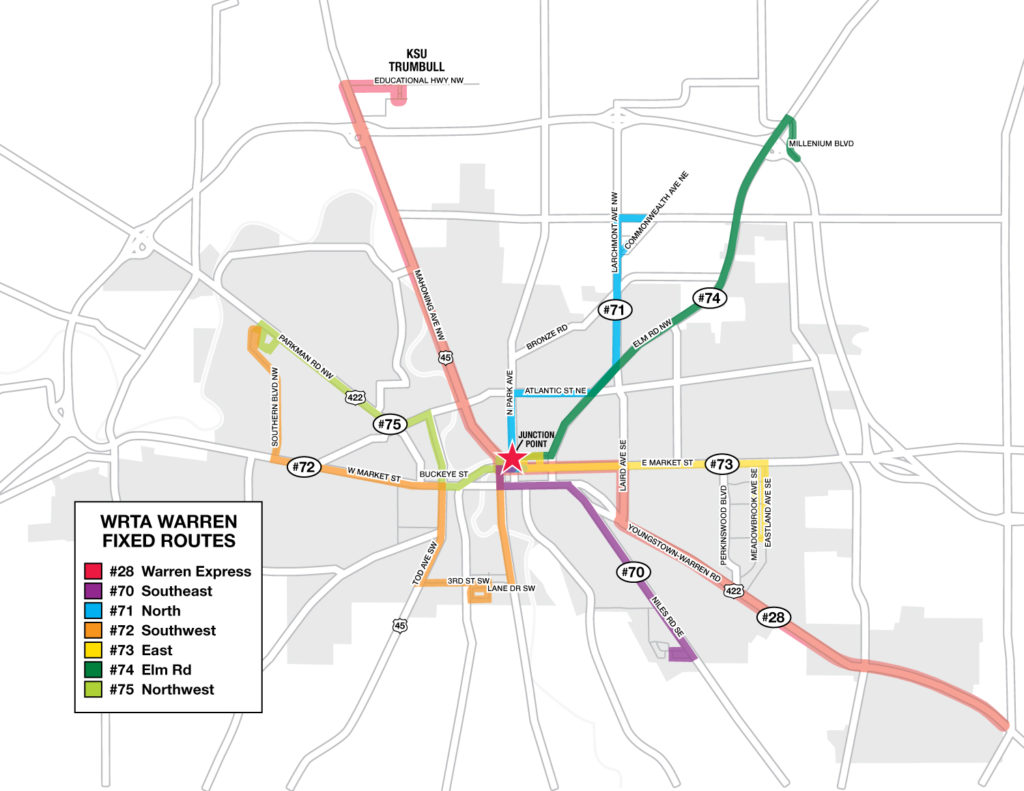 ---
Warren Service Schedules
You can view the schedules for the new Warren Routes (as well as the revised schedule for the 28-Warren Express route) by clicking on the links below.
---
Please note!
The new #70-#75 Warren routes operate Monday through Friday only.
The new Monday through Friday 28-Warren Express route has been expanded to serve Mahoning Avenue and the KSU Trumbull Campus.
The Saturday 28-Warren Express continues to follow the original schedule and route, which serves Highland Terrace.