Warren Service
Fixed Route Bus Service — Now Operating in Warren
Thanks to a Grant received by ODOT, starting December 6, WRTA will offer Monday through Friday fixed route bus service within the city of Warren.
Seven new routes will be running in Warren, and reach most retail, medical centers, high employer areas and more within the city limits.
If you have questions about WRTA's Warren service, you can call (330) 744-8431, or use the Contact form on this website.
---
Warren Service Map
The map below shows the final new Warren routes as of December 6, 2021.
Click here (or on the image) to view a larger and printable version of the map.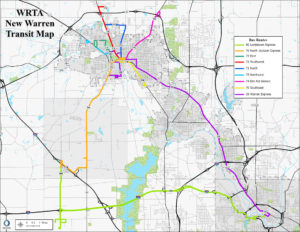 ---
Warren Service Schedules
You can view the schedules for the new Warren Routes by clicking on the links below.
COMING SOON