WRTA Coronavirus Updates
This page contains the latest information on WRTA response to the coronavirus outbreak.
Please check back here frequently for updates.
---
Upcoming Changes to WRTA Services
The coronavirus outbreak has necessitated changes to services offered by The Western Reserve Transit Authority. The changes will be rolled out over the next two weeks.
Effective Monday, March 30, all Nightline routes will be eliminated. The six existing Nightline routes serve Youngstown's North Side, East Side, West Side and South Side as well as adjacent communities Monday through Friday from 7:15 pm till approximately midnight. The final Nightline runs will take place Friday, March 27.
Also effective Monday, March 30, the 24-Midlothian Loop will no longer run after 6:30 p.m., and the 25-Boardman/Canfield Loop and 26-Boardman East Loop will not run after 6:55 p.m. The final evening runs for these routes will be Friday, March 27.
Effective Monday, April 6, all WRTA Fixed Route bus service will be eliminated. This means large buses will no longer run in Mahoning or Trumbull Counties. The final Fixed Route runs will take place Saturday, April 4.
WRTA will provide Enhanced Countywide (small bus) service from 6:00 a.m. to 6:00 p.m. Monday through Saturday to all areas within Mahoning County, and Monday through Friday to all areas within Trumbull County. Countywide is a scheduled service, with rides provided at no cost during this state of emergency. Scheduled rides must be for work, medical and shopping purposes only. Countywide trips can be scheduled starting Monday, March 30.
Those who wish to use Countywide Service must call 330-744-8431 to register for the service. Once registered, riders can schedule a trip between 7 days and at least 24 hours in advance of the planned trip.
More information is available on the Countywide page of this website.
Free Fares
Rides on all WRTA buses are free until further notice. This includes fixed route, ADA All-Access and Countywide buses.
Sales of Adult Day Passes, Multi-Ride Tickets and Adult 31-Day Passes have been suspended because they are no longer necessary.
Do not attempt to buy passes from WRTA drivers or via the EZfare smartphone app.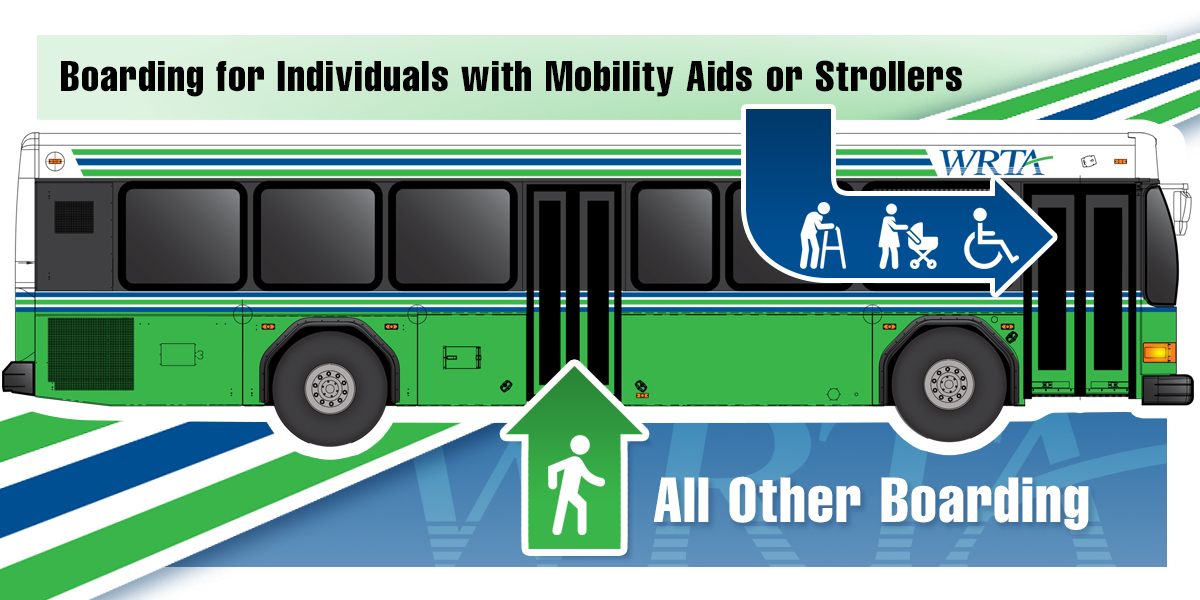 Riding WRTA Buses
Please board and disembark from all WRTA buses via the rear door. (Exception: wheelchair users and riders with strollers should board from the front door.)
The front seats on both sides of our buses immediately behind the driver have been closed. This area is reserved for wheelchair use only.
When riding our buses, please help us keep drivers and other passengers healthy by practicing social distancing and following other posted instructions.
Every WRTA Fixed Route bus has a hand sanitizer dispenser located immediately to the left of the driver seating area.
This dispenser works automatically when one's hand is placed beneath it; there is no need to touch any part of it.
Federal Station and WRTA Offices
While buses will continue to travel to and depart from outside of Federal Station, most inside areas of Federal Station are closed.
There is limited access to Federal Station's restrooms and the Greyhound service area.
WRTA offices at 604 Mahoning Avenue are closed to the public.
If you need to speak with WRTA personnel, call (330) 744-8431 or fill out the form on this website's Contact Us page.
What WRTA Is Doing to Respond to Coronavirus Concerns
Along with the usual thorough cleaning of our buses, we have implemented more aggressive sanitizing procedures.
These include disinfectant spraying and cleaning, along with treating with electrostatic sanitizing equipment throughout the buses'

interior.

Employee work areas (lockers, break rooms, restrooms, etc.) at the WRTA yard on Mahoning Avenue are also on a more aggressive cleaning and sanitizing routine.
Personal Protection Equipment (PPE) such as hand wipes and rubber gloves has been made available to all WRTA drivers.
What You Can Do to Protect Yourself and Others
Respect the personal space of those around you by practicing social distancing.
Avoid shaking hands. If you do, try to wash them or apply hand sanitizer as soon as possible.
Avoid touching your eyes, nose and mouth.
If you cough or sneeze, cover it with a tissue, and dispose of the tissue in the trash. If none is available, cough or sneeze into the crook of your elbow.
Wash your hands with soap and water frequently, taking at least 20 seconds to do so. Dry your hands thoroughly.
If soap and water are not available, use an alcohol-based hand sanitizer with at least 60% alcohol content.
To the greatest extent possible, avoid large crowds.
If you're feeling sick, stay home from work and avoid contact with others until you're well again.
If you have additional questions, call WRTA Customer Service at (330) 744-8431. You may also fill out the form on this website's Contact Us page.