Nominate Non-Profits for WRTA's Holiday Lights Campaign
This holiday season, Western Reserve Transit Authority is once again putting the spotlight on organizations that Light Up the Valley all year long with the 2023 WRTA Holiday Lights Campaign! 
Nominations are being accepted now through 5 p.m. on October 20, 2023. Twelve Mahoning County organizations chosen from the nominees will be honored at a special event on Wednesday, November 15th. The event will be streamed on Facebook Live this year. The honored organizations will be featured on WRTA TV and social media as well as signs on WRTA buses and the giant digital sign above Federal Station. One organization, chosen by drawing at the event, will also receive a year-long social media campaign.
HOW TO NOMINATE YOUR ORGANIZATION OR OTHERS
Leaders of Mahoning County non-profits who believe the work they have done has been exceptional and beneficial to the Valley can nominate their organizations. Just complete the short form below before 5 p.m. on October 20, 2023. Nominate your favorite just once, more nominations do not help the chances of selection.
WHAT TYPE OF ORGANIZATIONS QUALIFY?
Three categories of organizations within Mahoning County can nominate themselves
Non-profit organizations
Public agencies (e.g. The Public Library)

 

Private companies that include charitable giving, volunteering, and other good works as part of their culture.
TIMELINE
• Nominations accepted until 5 pm on October 20, 2023.
• Award Winners announced and contacted on October 27, 2023.
• Kickoff and award presentation Wednesday, November 15, 2023 
Fill out the form below to nominate your organization
Last year, 12 Organizations were honored, including:
Youngstown Blue Coats

 

Yellow Brick Place

 

Glenwood Grounds
The Bummer Fund
National Alliance on Mental Illness of Mahoning Valley (NAMI)

 

Cadence Care Network
Gateways to Better Living
Jewish Family and Community Services
Alta Care Group
Youngstown Neighborhood Development Corp.
YoFresh Foods
Boys + Girls Club of Youngstown
Our Website Has Been Updated!
WRTA has been in the process of making updates to the website to better serve our riders and the community. We are excited to announce that the improved website has now been taken live!
When visiting the website, you will see adjustments to the overall design, a few new pages added, and existing pages updated. Be sure to check out our new sections on the home page as well — Zero-Emissions Future, Autonomous Vehicles Project, and Community Connections!
In addition, we also added a new feature to simplify and streamline the process of becoming ADA-accessible and compliant using AI, machine learning, and computer vision.
Happy Labor Day!
Please be advised that WRTA will be closed and there will be no bus service on Monday, September 4th in celebration of the holiday.
We here at WRTA sincerely hope that you and your family will have a very happy and safe Labor Day!
Regular bus service will resume on Tuesday, September 5th.
Effective Sept. 8, Warren Service Will Be Discontinued
In March 2020, Western Reserve Transit Authority (WRTA) was awarded a grant by the Ohio Department of Transportation (ODOT) to fund a demonstration of fixed route service in the City of Warren.
Subsequently, the ODOT grant has expired and ODOT did not renew the funds needed to maintain the service.
The last day of service for the Warren routes, 70 Southeast, 71 North, 73 West, 74 Elm and 76 North Jackson will be Sept. 8, 2023.
This change does not affect the service on the 28 Warren Express. This route will continue to operate and connect the City of Warren with the City of Youngstown.
For possible alternative transportation, please contact Trumbull County Transit at 330-675-2873.
For more information call the WRTA office at 330-744-8431.
Schedule Your Late Night Rides with WRTA's On Demand App
WRTA announces a new way to schedule your ride for curb-to-curb late-night service. Download the WRTA On Demand app to book your trip from 9:15 PM – Midnight, Monday – Friday within the Mahoning County Fixed Route service area. WRTA's Late Night service is a safe, convenient, and free way to get around late at night and the On Demand app makes it easy to book a trip!
How to Register & Book a Trip:
Step 1:
Visit the App Store or Google Play Store and download the WRTA On Demand app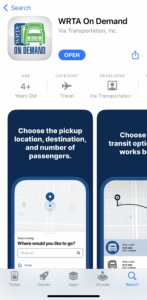 Step 2:
Create an account by entering your phone number, first/last name, and email address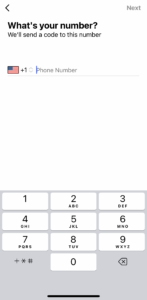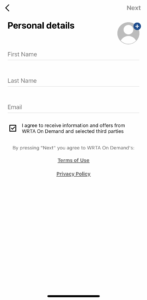 Step 3:
Choose your pickup location, destination, and how many passengers will be on the trip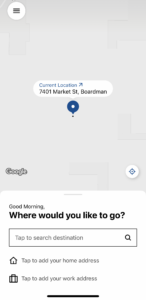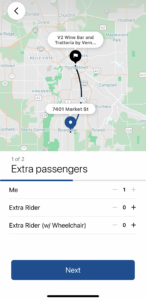 Step 4:
Decide if you want to book your trip now or schedule it for later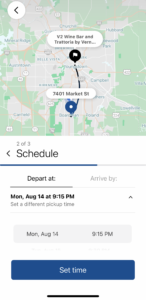 Step 5:
Get picked up at your location and track your ride in real time!
For questions, please call Customer Service — 330.744.8431 Option 3
Canfield Fair Bus Schedule
WRTA will once again be offering bus service to and from the Canfield Fair this year! Remember, riding WRTA is FREE!
Click to view a larger image
WRTA Announces Winners of "Art on the Move" Campaign
90 individuals registered to be selected for one of just nine slots in the Western Reserve Transit Authority (WRTA) Art On The Move Campaign. Now the names of the nine winners are being revealed for the first time.
2023 WRTA ART ON THE MOVE CAMPAIGN WINNERS
Gary Balog
Nicholas Begnaud
Kendra Blake
Michael Flood
Daniel Madeline
Laura Marciella
Ron Moore
Gabriel Pagan
Leah Sydney
The artwork of the nine will be featured on a giant mural on the side of a WRTA bus, like a mobile gallery displaying the talent of local artists.
KICK-OFF EVENT/ARTWORK BUS REVEAL
The artwork on the side of the WRTA bus will be unveiled and the nine winning artists will be recognized at a special outdoor event at DeBartolo Commons at the Southern Park Mall.
The winning artists receive a $100 Visa gift card, and their individual artwork will also be highlighted in TV spots, social media, and on the giant digital display at Federal Station in downtown Youngstown.
Entrants were asked to illustrate the "positive impact of public transportation," but other than that were free to use whatever medium and whatever subject they chose.
"There are so many talented artists in the Valley," says Dean Harris, WRTA Executive Director "We wanted to highlight their skill, as well as their unique perspective."
JUDGES/CO-CHAIRPERSONS
The co-chairpersons of the campaign also served as judges to select the winning nine entries. The co-chairs of the 2023 campaign are:
Joyce Mistovich, Director of Education, The Butler Institute of American Art
Kevin Willis, Principal Architect, Strollo Architects
Patrick McGlone, Mural Artist/Owner, The Overall Paint Co.
Thank you to everyone who submitted their artwork!
$8.5 Million in Grants Keep WRTA and the Valley Moving Forward
Thanks to the bipartisan support of United States Senator Sherrod Brown and Rep. Bill Johnson and local community leaders, Western Reserve Transit Authority will receive three federal grants, totaling nearly $8.5 million from the Infrastructure Investment and Jobs Act.  
The three grants include a $4,313,552 Buses and Bus Facilities grant is to construct and improve the WRTA bus maintenance and operations facility — commonly called a "bus barn." The grant "will provide funding for the replacement of one of our bus barns that hasn't been updated since the 1970s and when the update is complete, the new bus barn will be ready for the future with the ability to charge battery electric buses and make our operation more efficient," said Dean Harris, WRTA executive director.
A second award of $2,940,480 comes from the Rebuilding American Infrastructure with the Sustainability and Equity (RAISE) Transportation Discretionary Grant fund. It is to complete engineering and final design of the reconstruction of the Federal Street station.
The money also would be used to turn it into a mixed-use, transit-oriented facility that includes a new sheltered passenger terminal, parking garage, electric vehicle charging stations and other amenities.
It's important to note the support of the community in securing the RAISE grant.  Community organizations, government officials and leaders sent letters of support of this project. 
The third grant is $1,208,632 for WRTA to replace older buses with zero-emission and low-emission models. WRTA will use much of the money to replace its gas-powered fleet of 47 large buses and about 25 smaller ones with low-emission and no-emission buses. WRTA has a goal of going all electric by 2040 and will begin converting its bus fleet to electric in 2026.
WRTA provides more than transportation… it supplies a direct route to jobs, personal freedom and the Valley's economic future. That's why WRTA is always moving forward, providing efficient service, supporting employers and workers, partnering with the community and preparing for a zero-emission future. 
"These grants will play a key role in keeping WRTA and the Valley moving forward." said Harris. 
4th of July
Please be advised that WRTA will be closed and there will be no bus service on Tuesday, July 4th in celebration of the holiday.
We here at WRTA sincerely hope that you and your family will have a very happy and safe 4th of July!
Regular bus service will resume on Wednesday, July 5th.
WRTA Kicks Off New Art On The Move Campaign
The Mahoning Valley is home to art that inspires and moves us — that's why WRTA is recognizing local artists with the Art on the Move Campaign.
Local creators are asked to submit their artwork illustrating public transportation in the Valley. Nine entries will be chosen to be displayed on the special "Mobile Art Gallery" that will be on the side of a large WRTA bus (see below). The nine winners will also receive a $100 VISA gift card, recognition at the Art On The Move kick-off event, and featured on WRTA's social media, TV commercials, and digital sign at Federal Station.
Registration ended on Friday, June 30 and is now closed. 
Artwork submissions are due by

Friday, July 7

. Only artwork from creators who registered will be accepted.
---
Artwork Guidelines
Your original artwork must be square and created in one of the following mediums:
Hand drawn/painted
Or computer generated original artwork (Exclusions include: stock art or clip art.)
Your artwork should illustrate positive images of people using or benefitting from public transportation (WRTA) in Mahoning Valley.
Here are a few examples of what the artwork can show:
People getting on a WRTA bus
People getting off of a WRTA bus
People riding a WRTA bus
WRTA riders arriving at work or a shopping center
WRTA ADA accessible vehicle with a wheelchair user
Rider using the myStop Mobile App

 

Rider utilizing the bike rack on a WRTA bus
Riders waiting at a WRTA bus stop

 

Riders waiting at a WRTA bus shelter
Clean environment (a WRTA bus with clouds, greenery, less cars on the road, etc.)
Federal Station
Sample Artwork:

Inspiration for Artwork:
You can use these photos or videos below as inspiration for your artwork
Submission Process
Minimal size, square 10"x10". Physical submissions are preferred (either original piece or a print). If artwork is being submitted digitally, either as digitally-created art or a photo of a physical art, it must be a high resolution, 300 dpi JPG/PNG file (3,000×3,000 pixels). Artwork submissions are due by Friday, July 7.
PHYSICAL ENTRIES
Drop off at Farris Marketing M-F, from 9AM – 5PM— 4845 Market Street, Suite 3, Youngstown, OH 44512
DIGITAL ENTRIES
Send to Makenna @ Mozenghar@farrismarketing.com 
*Please include your first and last name on or with your artwork submission and a description of what your artwork portrays.
Questions? Call 330-770-9627.
Registrations for the WRTA Art On The Move Campaign are now closed! If you registered please submit your artwork, physically or digitally, by Friday, July 7.